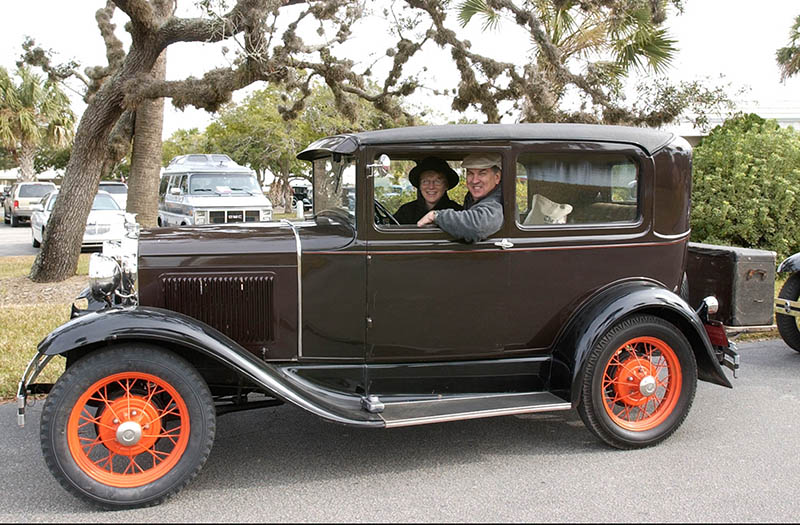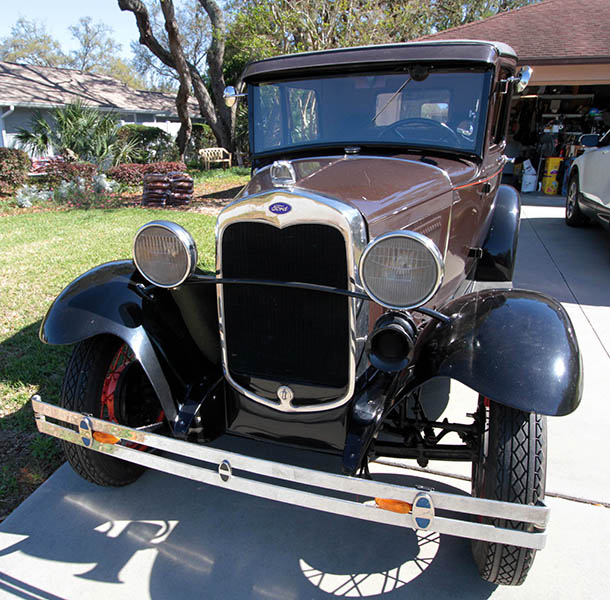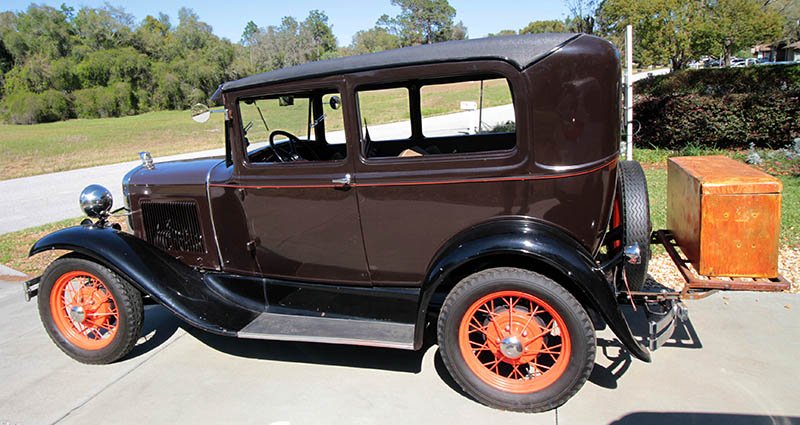 Late '30 (Oct. according to original serial number) Tudor Sedan in Thorne Brown with orange wheels & stripe. Older (1988) body off restoration needs touching up. Car drives well, brakes are good & engine is very easy to start & runs smooth.
Engine has an restored original Zenith carburetor, stock distributor with modern points and condenser. Equipped with an alternator and custom-made coolant overflow tank. Accessories include chromed flying quail radiator ornament, & deluxe 'Guide' traffic light finder mounted to windshield frame, dual door hinge mount rear-view mirrors, expanding running board bracket, and rear sisal floor mat. Seat springs were replaced in 1988 and are still firm. Top is tight & doesn't leak.
Car has 4 nearly new Goodyear Diamond Tread tires plus spare.
Many extra parts including new inner tubes, several extra carburetors, gaskets, transmission, steering, brake parts and many more included with car. There is a truck rack on the back but it isn't a Model A rack. There is a period (not Model A) trunk that needs recovering. The wood has been rebuilt for covering & hardware needs to be installed.
Car has a LeBaron Bonney interior but it needs replacement. It was badly attacked by moths during the summer when I was out of town. Moths are gone but there are several holes in upholstery. It's functional but not pretty.
I've owned the car for the last 50 years and it was used as a daily driver until the original engine gave out in the late '70s. At that time I decided to do a body off restoration and over the next few years completely dismantled the car, had the body striped to bare metal, then primered and painted. A good running engine was obtained, overhauled and after all the running gear was rebuilt, then everything was put back together.
The car is located in Spring Hill, FL. My declining health forces sale.
$11,000
Bob East, (352) 666-3066, eastbob3@gmail.com