1930 Standard Coupe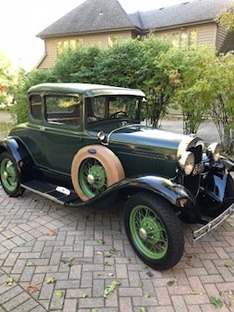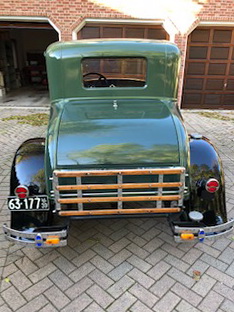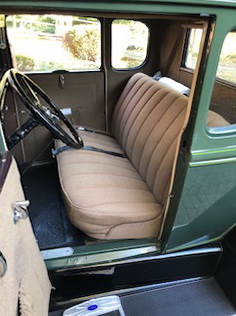 Has Rumble Seat, Dual Wheel Well Front Fenders, Cowl Lights, Luggage Carrier, Turn Signals and Brown Check interior seats with passenger side seat belt. 6513 Miles on Engine (A3103326)
$16,500
Ray McMahon, grafech_ray@sbcglobal.net, (630) 853-6832
Beater Tudor Wanted
Our MARC club, the Sparton Horn Region, wants any year Tudor Sedan. Rusty, crusty and needing a friend, to use as a test bed for seminars. It will have a future in serving our membership as a learning tool and eventually, as a car for new members to use on tours for a taste of what our hobby is all about. The criteria: A complete car. Not running is fine, but please, not something that is a hopeless fence row car that is in two halves. It has to be a functioning car someday, and our limited financial resources require it to still hold a candle of life. A donation would be the ultimate dream, but business is business, so if you need a couple dollars for the car, we can work with you. Something within 500 miles of lower Michigan would help. Thank you for your consideration in our quest for a club asset that will continue to give for years to come.
Greg Fish, (517) 712-7603, fish_49202@yahoo.com
1932 A Passenger Rear Fender
Model A Parts
Original Head, magnafluxed, resurfaced, repainted, $100.
Generators, untested $40, 3/$100.
New Old Stock Tilotson Carburetor, tested $175.
Box of water pumps and parts, $25.
Other items available, email for list. Pikeville NC.
Kirk Ellis, (919) 242-6000, kirkellis@embarQmail.com
1930 Model A Town Sedan (Briggs body)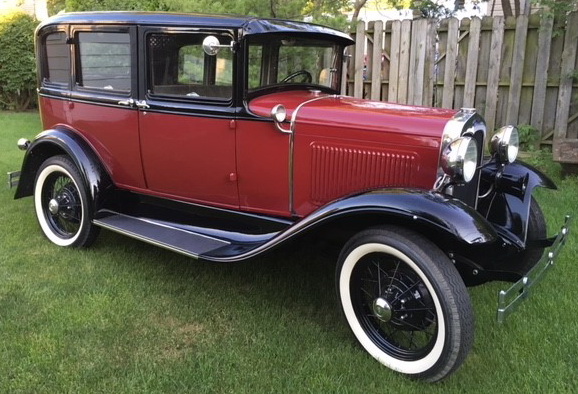 Restoration: New Paint job, Tires, Safety Glass, Fenders, Running Board and Door Hardware, Interior and Rugs, Brake shoe with Cast Iron Drums, Upgrade electrical to 12 Volt with Alternator and Halogen Headlight, Rebuild Shocks, King pines / Front end bushings, Wheel Bearings, Rebuild Carburetor and New Roof. The Engine was overhauled, Trans and Rear End run smooth. Look's, Drives and Rides Very, Very Good.
$19.500
Bill Boyce, (630) 279-3178, B.boyce@sbcglobal.net
Model A News and Restorer Magazines
Collection of "Model A News" and "Restorer" magazines starting in the 70's… looking for a good home. Sylvania, OH
Make offer.
Mal, (419) 265-8831
Parts For Sale
Hood ornament – Devil Thumbing His Nose,Cast Pewter, $65
Four blade fan. $45
Distributor, $95
Model A Horn, looks good sounds good, $195
30/31 Dash Panel Round Speedometer, Ex, $40
Tillotson Model X Card, $95
Zenith -1- Carb, $135
SS hood rods,choke rod assy, spark and gas rods, Ex. $35
Sm. Alemite grease gun, $15
Vacuum gauge $10
Resistor for 6 to 12 V Coil, $5
Oil Pressure Gauge 5 lb and Water Temp Gauge, Rochester, Chrome $60
30/31 Headlight Bar, $125
Oil Breather w/flexible conduit, $25
Model "B" Timing Gear Cover, $25
Feel free to contact me for additional info or pictures.
Marv, (517) 467-5125, mhojnicki@comcast.net
Model A Christmas Cards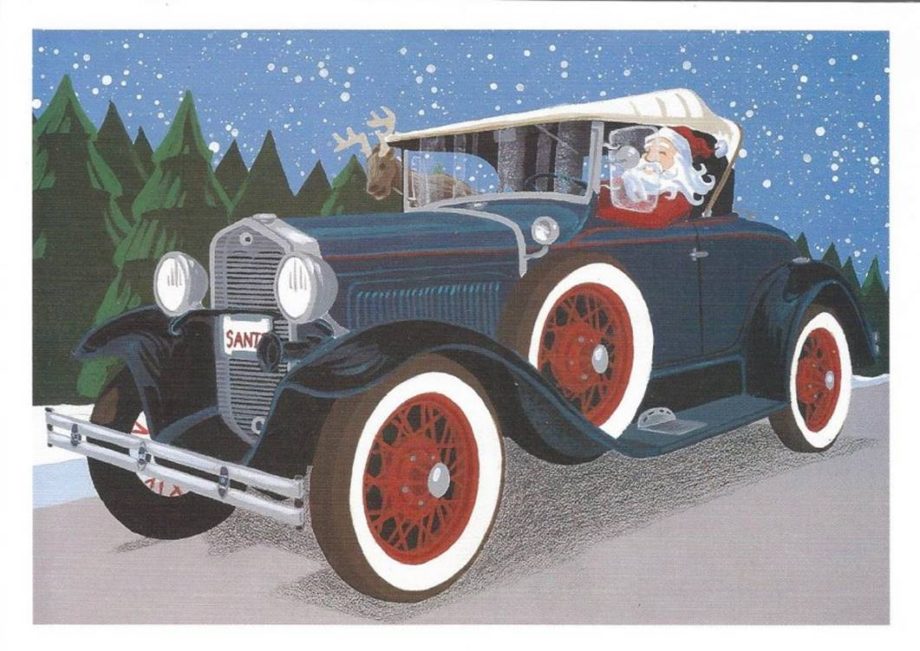 Some years ago, my company, Chesapeake Artworks, produced and marketed a Model A Ford Christmas card. We sold out of the entire print run of 6000 cards and even today we still get inquiries about the availability of these cards.
Recently, in looking back over some of the products we sold, I thought it would be fun to do a Model A card again.
The above image shows the front of the card; the greeting inside reads "Oh What Fun It Is To Ride! Happy Holidays".
The cards are packed in sets of 20 cards and envelopes.
Price per set is $20 postpaid.
Order at www.chesartworks.com/ford
Vern Tardel's Classic Car and Hot Rod Junkyard
Vern Tardel, America's premier builder of traditional hot rods, is opening a new
on-line junkyard to sell his several acre collection of vintage automotive parts.
For the past 50 years, Vern has collected vintage Ford and other parts for his business, which he is now offering for sale to hot rodders, restorers, and builders. On his website, you will find rare and hard-to-find items including electrical parts, lights, sheet metal, moldings, trim, Stromberg carburetors, Ford accessories, horns, gauges, ignitions, and so much more.
Here is a new opportunity to find what you need. If you don't see what you want, contact him via email link on the site. It is the perfect place to get a bargain or a long lost automotive treasure for 1924 though 1975 parts!
Most pricing includes shipping to lower 48 states only!
You'll find just what you need at www.vernsjunkyard.com
40+ Year Collection of Model A Parts
Many hard-to-find original parts. Some new old stock parts. Some rebuilt originals.  Call for specific information. Sold as a collection only, no separate part sales.  Located about and hour west of Naxhville, TN
2 Excellent 2-Blade Fans – original
1 1930-31 Switch, complete with Cable and original Key mint
4 Radiator Caps
2 1929 Radiator Shells good to plate 1930-31 Radiator good original
Model A Tool Set in wooden glass-covered show case
Rebuilt Motor Block with pistons, rods, new rings; valves ground; shims adjusted Lots of original Radiator Pipes top and bottom
2 Factory rebuilt Generators
2 Other rebuilt Generators
1 rebuilt Starter
1 Starter not rebuilt
Late 1931 Side Bowl Carburetor complete for show
2 other rebuilt Carburetors tested on car
3 Tillotson Carburetors
3 Grease Guns Model A Several Brake Drums
1928 Radiator Shroud mint Several sets Gaskets
Wolf Whistle
3 Oil Pumps CB Radio
Several Floor Mats
New set Shocks complete with all Hardware including Links and Arms
ModelA Trunk
10 Model A Wheels
Model A Engine with new standard Babbit Bearings ready to build
2 Fly Wheels Model A
4 Crank Shafts Model A
3 Oil Pans Model A 1929 Rear Bumper
Two-toothSteering Column rebuilt complete with Steering Wheel, Horn Rod, Spark and Throttle Rod
2 sets Running Boards
3 Fenders
Roll-around Stand for building Model A Engine
2 Torque Tubes
2 Mufflers
3 Cam Shafts
1 NOS Cam Shaft for Early 1928
1929 Dash Panel with Butler finish mint Several Head Light Lens original Suitcase Rack for Running Board
2 Fly Wheel Housings
1 new 2-Blade Aluminum Fan Blade
1 set 1931 Head Lights
1 set 1929 Head Lights Several Head Light Rims Spring Spreader
Valve-Grinding Machine
Miscellaneous 1940 Ford Parts
Total $7,500
Kenneth L Walker, (615) 789-5345