National Meet in Oshkosh WI. 2021
When:
June 7, 2021 – June 11, 2021
all-day
2021-06-07T00:00:00-05:00
2021-06-12T00:00:00-05:00
Where:
Best Western Premier Waterfront Hotel & Conference Center
1 N Main St
Oshkosh, WI 54901
USA

Contact:
Jerry Braasch
920-688-2294 or 920-216-6697
Latest Updates
The response to the meet in June is greater than our expectations.
Thus the following venues are full and we do not have any more spots available.
Boat Cruise, Upholstery Seminar, Pig Roast, Fish Fry, Ladies Garden Party.
Future registrations that requested these venues will be issued a refund.
Refunds will be in their registration packets at the registration desk.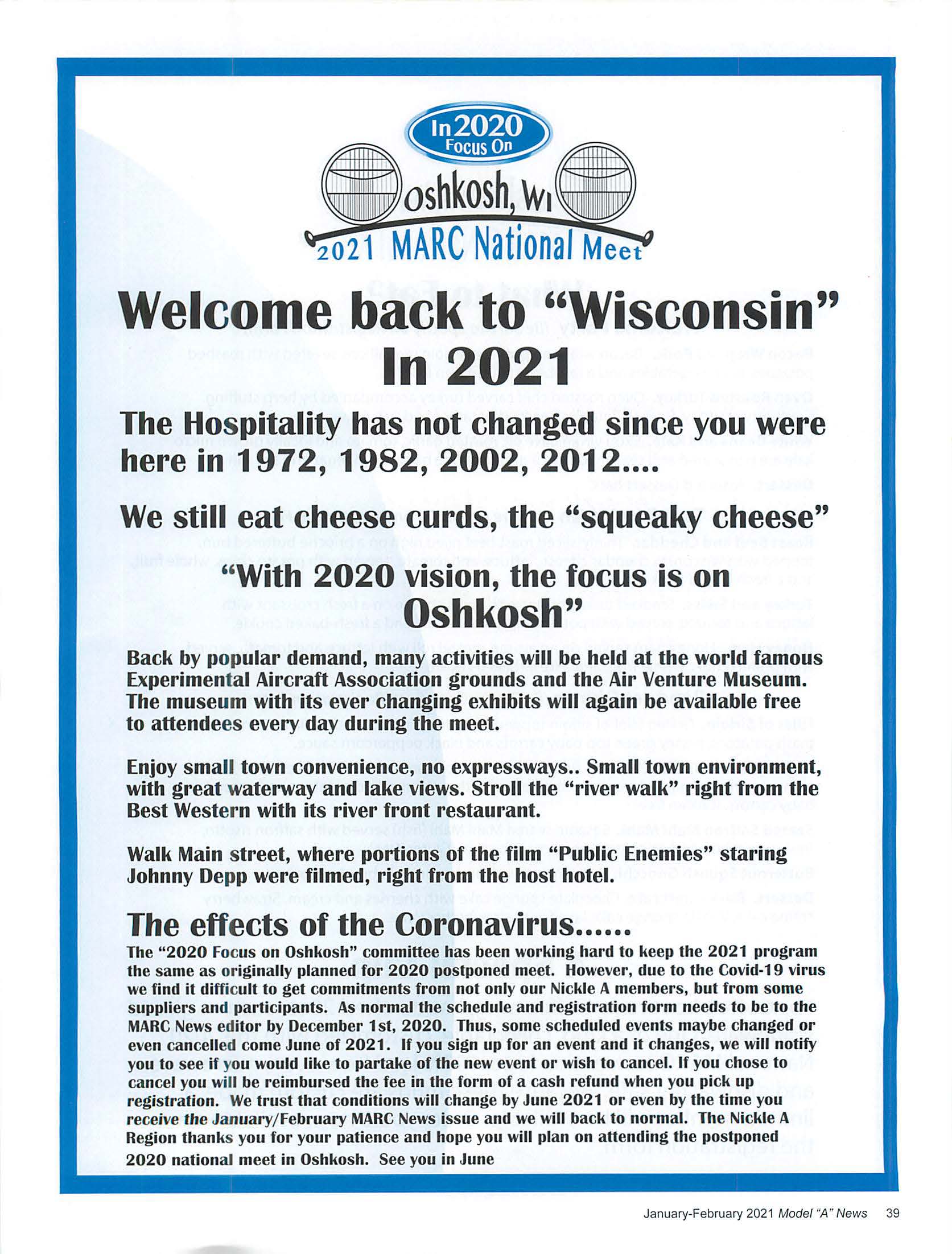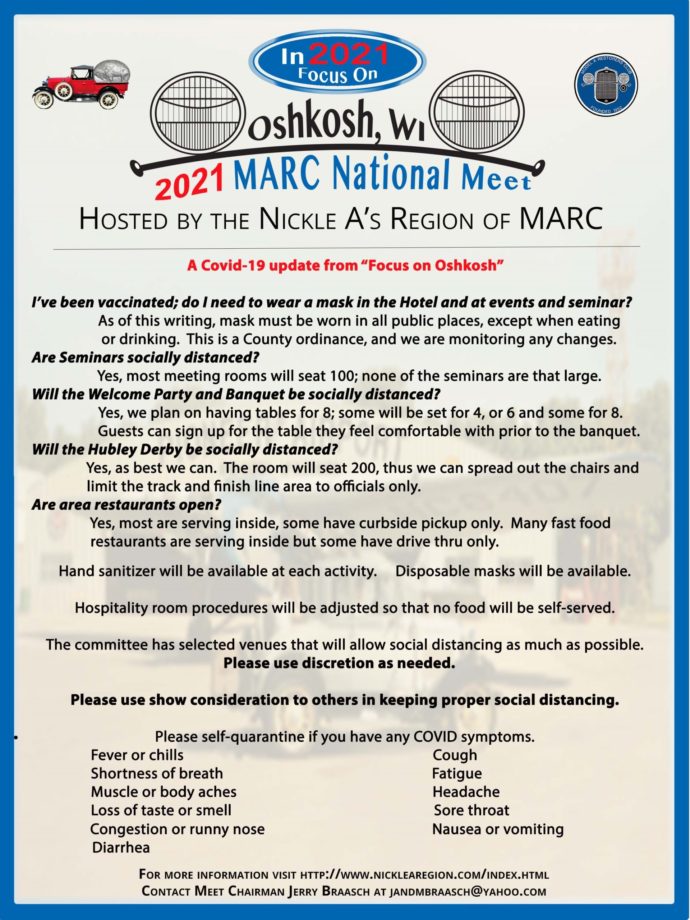 Click here for registration form.
Click here for things to do and see.

Hotels
Best Western Premier Waterfront Hotel (Host Hotel)
1 N. Main Street
Oshkosh, WI 54901     (920) 230-1900        Hotel is Full
Super 8 by Wyndham
1581 W. South Park Avenue
Oshkosh , WI 54902                           (920) 426-2885
Cobblestone Hotel & Suites
1495 W. South Park Avenue
Oshkosh, WI 54902               (920) 232-0300
La Quinta Inn
1886 Rath Lane
Oshkosh, WI 54902                    (920) 233-8197
Fairfield Inn & Suites by Marriott
1800 S. Koeller Street
Oshkosh, WI 54902                     (920) 233-8504
Please check with Oshkosh Map online for location and other hotels in the area
Campgrounds
Circle R Campgrounds
1185 Old Knapp Road    920-235 -8909 3 ¼ miles from EAA 6.5 mile s from Host Hotel
Hickory Oaks Campgrounds 555 Glendale Ave.    920-235-8076 6 ½ miles from EAA 4 miles from Host Hotel
Kalbus Country Harbor   5309 Lake Road         920-426-0062
5 Miles from EAA                       8.5 miles from Host Hotel
OshVegas Palms Resort 3911 S. Washburn St.          920-230-2267 3  miles from EAA                          6 mile s from Host Hotel
Sleepy Hollow Farm        1679 W. Waukau Ave.          920-438-6531
0.1 miles from EAA       3.5 mile s from Host Hotel
Note: No camping available at EAA grounds