Features of the New Ford
Features of the New Ford
The information contained within this section of the MARC Web Site was gathered from many sources. The information in general reflects original Ford advertising data. It is not intended to be all-inclusive nor does it reflect all design changes. The intent is to provide some general information regarding the Features of the New Ford. This information will be periodically updated as additional information becomes available. There are several very informative books and literature that provide more detailed information available to the reader through the MARC Office or various Model A parts dealers.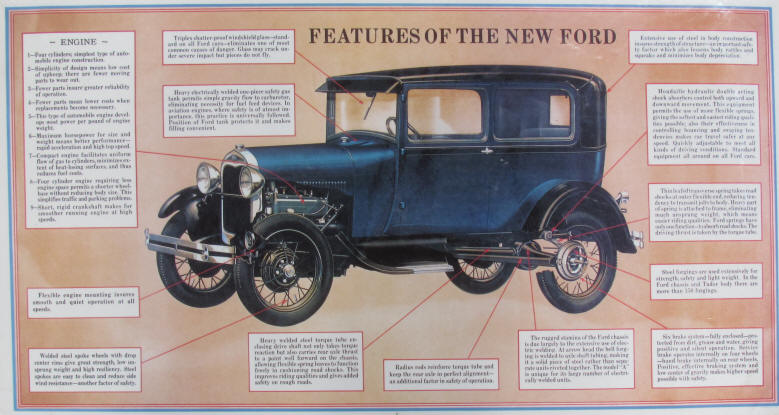 Engine
Four cylinders; simplest type of automobile engine construction
Simplicity of design means low cost of upkeep; there are fewer moving parts to wear out
Fewer parts insure greater reliability of operation
Fewer parts mean lower costs when replacements become necessary
This type of automobile engine develops most power per pound of engine weight
Maximum horsepower for size and weight means better performance – rapid acceleration and high top speed
Compact engine facilitates uniform flow of gas to cylinders, minimizes extent of heat-losing surfaces, and thus reduces fuel costs
Four cylinder engine requiring less engine space permits a shorter wheelbase without reducing body size This simplifies traffic and parking problems
Short, rigid crankshaft makes for smoother running engine at high speeds
Flexible Engine Mounting
Flexible engine mounting insures smooth and quiet operation
Steel Spoke Wheels
Welded steel spoke wheels with drop center rims give great strength, low un-sprung weight and high resiliency Steel spokes are easy to clean and reduce side wind resistance – another factor of safety
Windshield Glass
Triplex shatter-proof windshield glass – standard on all Ford cars – eliminates one of most common causes of danger Glass may crack under severe impact but pieces do not fly
Gas Tank
Heavy electrically welded one piece safety gas tank permits simple gravity flow to carburetor, eliminating necessity for fuel feed devices In aviation engines, where safety is of utmost importance, this practice is universally followed Position of Ford tank protects it and makes filling convenient
Ford Chassis
The rugged stamina of the Ford chassis is due largely to the extensive use of electric welding The bell forging of the rear axel housing is welded to axle shaft tubing, making it a solid piece of steel rather than separate units riveted together The model "A" is unique for its large number of electrically welded units
Torque Tube
Heavy welded steel torque tube enclosing drive shaft not only takes torque reaction but also carries rear axel thrust to a point well forward on the chassis, allowing flexible spring leaves to function freely in cushioning road shocks This improves riding qualities and gives added safety on rough roads
Radius Rods
Radius rods reinforce torque tube and keep the rear axle in perfect alignment – an additional factor in safety of operation
Body Construction
Extensive use of steel in body construction insures strength of structure – an important safety factor, which also lessens body rattles and squeaks and minimizes body depreciation
Shock Absorbers
Houdaille hydraulic double acting shock absorbers control both upward and downward movement This equipment permits the use of more flexible springs, giving the softest and easiest riding qualities possible; also their effectiveness in controlling bouncing and swaying tendencies makes car travel safer at any speed Quickly adjustable to meet all kinds of driving conditions Standard equipment all around on all ford cars
Traverse Spring
Thin leafed traverse spring takes road shocks at outer flexible end, reducing tendency to transmit jolts to body Heavy part of spring is attached to frame, eliminating much un-sprung weight, which means easier riding qualities Ford springs have only one function – to absorb road shocks The driving thrust is taken by the torque tube
Steel Forgings
Steel forgings are used extensively for strength, safety and light weight In the Ford chassis and Tudor body there are more than 150 forgings
Brake System
Six brake system – fully enclosed – protected from dirt, grease and water, giving positive and silent operation Service brake operates internally on four wheels – hand brake operates internally on rear wheels Positive, effective braking system and low center of gravity makes higher speed possible with safety.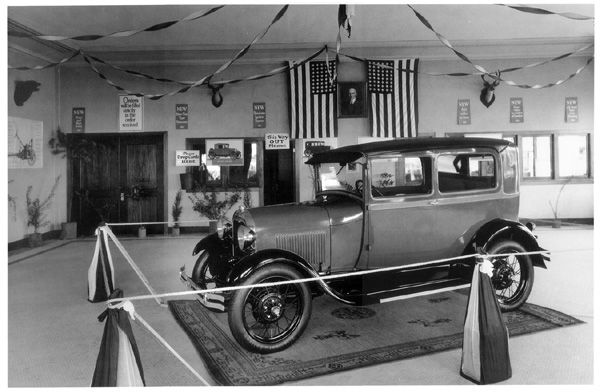 Very Early Tudor Sedan 55A


The Model A Engine


Engine Lubrication


Cooling System


Fuel System


Ignition


Transmission & Clutch


Chassis



Springs & Shock Absorbers


Steel Forgings

Electric Welding


Bodies