It is important to make sure that the glass door beverage refrigerator you purchase is properly insulated. While it may seem like a small detail, it is essential to keep your drinks from getting too cold. Keep in mind that the temperature of the drinks inside the refrigerator is directly proportional to the temperature outside. If you keep the drinks warm, they will stay warmer. If you keep them cool, they will stay cooler. Make sure you get a unit that has plenty of insulation if you want to enjoy the best quality beverages for longer periods of time. Source: topfridge.net
Aug
17
Wed
2022 MARC NATIONAL TOUR

@ ISLAND RESORT AND CASINO
THE 2022 MARC NATIONAL TOUR
AUGUST 17-19, BARK RIVER, MICHIGAN
3 MAGNIFICENT DAYS TOURING MICHIGANS UPPER PENINSULA IN YOUR MODEL A!!
Registration Form
Host Hotel
ISLAND RESORT AND CASINO
MON-THUR $80.00/PER NIGHT Fri.1-Sat $119.00/PER NIGHT
ISLAND RESORT AND CASINO WEBSITE
(800) 682-6040
WHEN MAKING Reservations PLEASE MENTIONTION: CODE "1896" FOR SPECIAL RATES
Sep
17
Sat
INTERNATIONAL MODEL "A" FORD DAY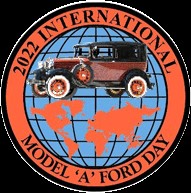 Dear Model "A" Ford Club Representatives:
INTERNATIONAL MODEL "A" FORD DAY, 2022, will take place Saturday, September 17th, with a local rain date of 9/18.  Please  put on an event like a tour & picnic.
This day is simply a formal opportunity for Model "A" Ford owners and Clubs around the world to all go out for a drive or event on that same day and submit photos to me for submission to the National Magazines.  Hopefully, the photos will show UNIQUE backgrounds to your locale.  Email JPEG photos to  sailbruce@aol.com
EMBROIDERED 3.5" IRON-ON PATCHES, as above logo, to commemorate the day are available for $3.00 apiece, minimum order twenty, from Bruce Adams, Founder, International Model "A" Ford Day.  All profits will be donated to The National Club's MODEL A YOUTH Scholarship and Restoration programs.
Checks to Bruce Adams, PO Box 45, Northport, NY 11768 includes shipping and handling.
Hoping to see you and your club participate and enjoy this great day and to submit photos to share with the entire Model "A" Ford community.
Sincerely yours,
Bruce Adams
Coordinator-Founder-International Model "A" Ford Day