Membership Meet Coming Soon
Register now.
Please get your registrations in before late fees apply.
Hamilton National Meet Registration Form
Registration form is now available.  Please register soon before your favorite events fill up.
Kids having fun in Morgantown
Summer fun and learning were the opportunities offered by the youth coordinator, Emily Ellway, at the MARC National 2022 in Morgantown, PA. The kids that joined in for the disassembly and reassembly, on two different days, enjoyed the chance to learn how to take wheels off a chassis, by working together and to take a few parts off a motor. The chassis was loaned by someone trying to sell it and the motor was there in the repair tent. Unfortunately, by Friday, the host group had packed up the repair tent, so there were no tools to do the reassembly. Thankfully, Emily brought out what tools she had and a gentleman (with the long white beard in the photos) opened the back of his Model A pick up and let the kids use some of his tools to work on the engine, that they had disassembled on Tuesday. He was a very nice person and helped talk the kids through what they needed to do, when guidance was needed. Emily also had silly slime in her toolbox, so the kids had a fun finish to their afternoon. Boys and girls alike were so interested in helping. Emily did an amazing job along with her boyfriend, who played hopscotch with the littler girls when they got done in the parking lot. It's great to see so much interest in doing this and all the adults that come to watch the kids, helps support the importance of this activity, especially for the future of the Model A and other Nationals to come.
Michelle Brown
Looking Glass A's region
Michigan
Hamilton 2023 RAFFLE TICKETS NOW AVAILABLE
Tickets will be available at the BAY City Membership meet, the VintageFordForum.com or From Sandy Fox at [email protected] as well as the meet registration form in Jan/Feb Model A News and the meet itself.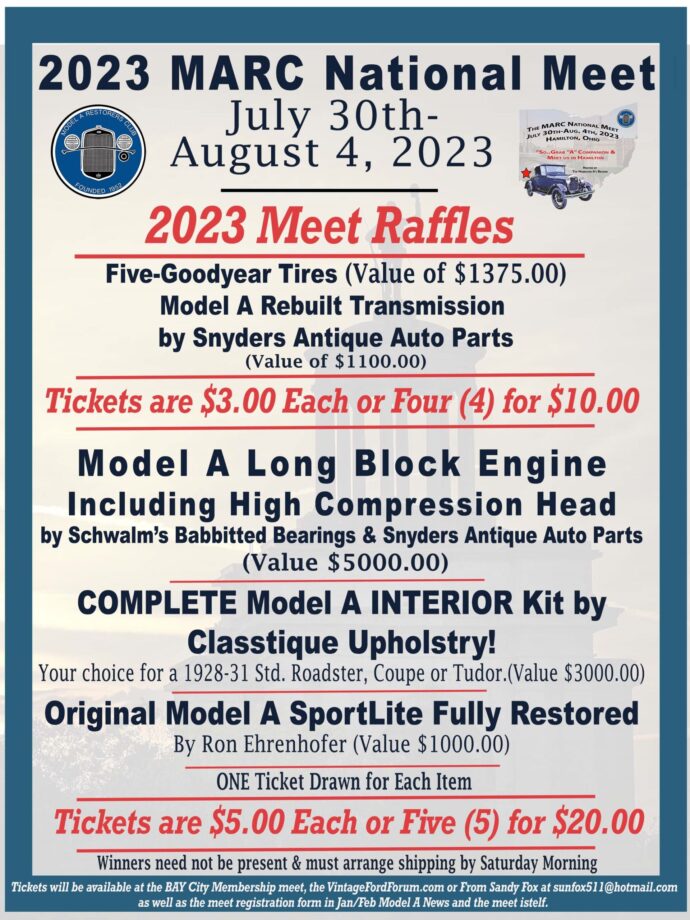 New Book added to the Store
Advertising the Model A Ford
$39.95
By James W. Thomas
Hardback, 304 pages, over 400 photos. Pictures and describes all (over 300) Model A Ford magazine ads produced 1928-1932.  Lists over 900 Model A ads by magazine, publish date and rarity rating. Includes listings of all (over 40) magazines with Model A ads.
Back issues of the Model A News Are Now Available
Just in time for the holidays. Many old issues are available in the store for puchace. There is a limited supply so check it out soon.
Driving the bus at the Model A Museum
Model A Days
Related Links