It has had detail work on the body and over all mechanical check. The engine is running wonderfully. It purrs like it should. A new Nappa 6 volt battery has been installed. The floor has a new cut out for easy access to the battery. A new model A Zenith carburator has also been installed. A complete tune up has been done. Installed complete points ,condenser, coil, sparks plugs are good, all 4 cylinders test at 60#s. A vacuum test is in good running order. The brake's are good, lights work, horn ah au gahhh. Transmission, rear end differential oil good. Older paint restoration, but still looks good with a few scratches. Interior is good. This vehicle is ready for touring around. Ready for family fun.
$16,000
Mike Cannon, (219) 851-2310, mcannon31@me.com, Rolling Prairie, Indiana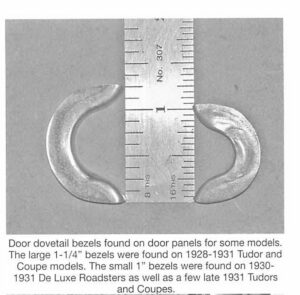 I need 2 original large door dovetail bezels for 1929-1930 Tudor and Coupe for fine point judging.
These are 1 1/4″. See Judging Standards top of page 12-7 revised.
Larry Reeg, ldreeg@yahoo.com, MCKINNEY, TX
Model A Ford with reproduction Cantrell Body. White Ash with birch inserts. Complete body with all hardware. Mounted on chassis where body was used for street rod. NEW: wood, roof, running boards, exhaust, splash aprons. Starts, stops, yard drives. Near new tires, has all sheet metal to complete. Will need wiring and minor adjustments. Basically you are buying the body, I am giving you the chassis.
$12,500
Louis Ironside, louisironside@aol.com, (810) 798-8803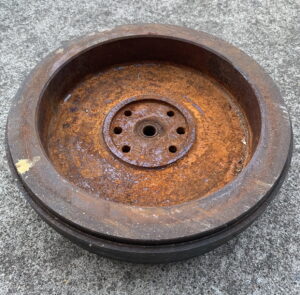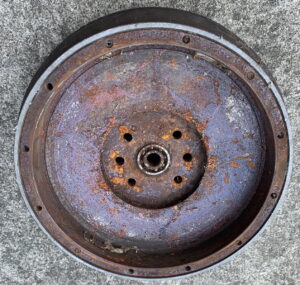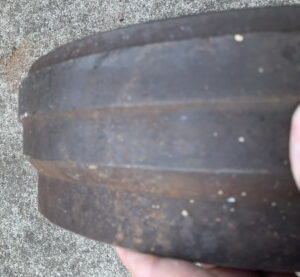 Flywheel seems to be in decent condition. Includes bearing. Please call with any questions.
Bryan Moore, bryanmoore1261@gmail.com, (734) 620-8045, Coldwater, Michigan
Axle housing seems to be in decent shape. Please call with any questions.
Bryan Moore, bryanmoore1261@gmail.com, (734) 620-8045, Coldwater, Michigan
Zenith 1 Carb, $125
Model A Horn, SW, looks and sounds good, $195
NOS Luggage Rack $140
30/31 Front Chrome Bumpers, 64″, VG, $270
Front Bumper Braces, $65 pr
Hoses Red Stripe with clamps, New $25
Mich. License Plates
1928 NR, $30 pr
1930 Repaired VG, $20
1931 Restored, $45
1937 NOS $120 pr
1976 NOS, $120 pr
1967 City of Livonia,$12
1982 Peddlers, NOS, $20
"Beck Motor Sales" License Topper, $20
Many other years available.
30/31 Cowl light arms, $60 pr
30/31 Wheel VG, $75
30/31 Steering Cheel, 2 minor cracks, $75
Sediment Bowl, $22
28/29 Dash Rail, VG, Closed Car, $45
Bud Vases, Request Photos
Oil Pump, $45
Air Maize Filter, $25
Ring and Pinion Gear, $100
Turn Signal Lights, Bumper Mount, Chrome with Amber Lenses, $20 pr
Valve Spring Compressor, $15
Spring Cover Set, $32
Brass Gas Tank Filler Screen, $30
Water Pump Housings, $24
"Ford" Condensers, $3
28/29 Gas Shut Off Valve, $20
Front Backing Plates, Primed with VG Tracks, $120 pr
Intake and Exhaust Manifolds, VG, $150
Spark Plugs, Champion Show Plugs, 3X Take Apart, $30
Champion Go Plugs WXGY $9.50 and C-4, $9.50, Motorcraft TT10, $3.50
14MM, $3
More info and photos available.
Marv, E-Mail, mhojnicki@comcast.net, PH (517) 467-5125, Cell (734) 558-7162
Wanted for my 1928 AA truck to make my restoration complete. I'm in need of five (or how ever many you might have) 1822 Schrader stems, 725 nuts, and 4936 rim nut bushings. If you have any of these items that you would be willing to part with I would greatly appreciate your contacting me.
Doug, lewisag1@gmail.com, (217) 836-1239
Nice clean, trunk model. This is a good driver. Has new tires.
$13,500.
Todd Batiste, todd324@live.com, (408) 230-5755 Arlington, TX
Model A carbs, 31 late side bowls, 3ea, restored, $200 ea.
1 Model A, long block, restored, $3000
2 Model A, short blocks, $25 ea.
Model A, original cowl lights, like new, $100 pair
Model A, splash shield, 28-29, used, $25 pair
1 Old oil drum and drum- restored
1 set of Model A brake drums and backing plates
Model A, test stand for motor, $50
Model A, oval speedometer, $50
Model A, electric wipers, original, 5 total, $50 ea.
Model A, steer rod and box, $30
Model A, light buckets, $20 ea.
Model A, heads, 2, $30 ea.
Model A, horns, Spartan, 4, $150 ea.
Ford hydro brake off of restored car, 39-48 car, 39-47 truck $2000, also fits Model A, all years
Model A, 28-31, brakes, backing, drums, $200
All prices Negotiable
Wayne Gerrish, (724) 528-3958, Pulaski, Pa