Benefits of Regions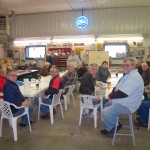 The Regions of the Model A Restorers Club are the backbone of our organization. The Model A Restorers Club is made up of local Regions all over the United States and extend to many of the International Countries. They all enjoy the Model A Ford and in doing so they have made lifelong friends, enjoy tours and parades and car show and swap meets. They enjoy gathering for picnics and parties and enjoying each others friendship. Many members come in not knowing anyone but in need of help and advice and this is where they start to receive a lot of useful information and assistance with their restoration. Many of our members have been in MARC for over 50 years.
So here are some of the benefits:
Help with a Model A Problem from a local person.
Advice as to where to get parts and supplies.
A group of people that have the same challenges with learning about the Model A
Friendship's that will last a lifetime.
A monthly newsletter telling you about the Model A and upcoming club activities.