Fashion Judging
Click here for Sample Judging form.
MARC Fashion Committee Mentorship Program
The mission of this recently established program is to provide a mentor to those who are interested in Era fashion (1928 – 1931) judging by helping them learn where to find Era fashion information and how to research items of their interest. The member requesting mentor help must have a copy of the most recent "MARC Fashion Judging Standards to assist them in their research.
Fashion Committee mentors will provide direction and helpful guidance to resources, websites and books. They may not select or purchase articles specific to assembling an individual's ensemble for national judging. The ultimate goal of a mentor is to motivate, develop and improve an individual's ability to research, discern and closely examine aspects of Era fashion.
Individuals who would like to participate in this program should contact the Chair of the Fashion Committee who will then assign a member of the Committee to act as a mentor.
_______________________________________________________________
The following articles from the Model A News, Sept-Oct 2019, are good, educational resources and a great way to start learning about this rewarding part of our hobby:
The Road to a Perfect "Clara Award"-Reproduction
By Chris Aupperle Pages 14-15
Fashion Awards, 2019—Dearborn, Mi.   Page 38
_______________________________________________________________
How to win a MARC of EXCELLENCE in FASHION JUDGING
Congratulations to Cookie Fearer for winning a MARC of Excellence Award in the Fashion Judging event at the 2016 Perrysburg National Meet.  The award means that Cookie earned more than 140 points out of a possible 150 points in fashion judging.  Winning such a high award on only her second time of competing was a significant accomplishment and we are proud of her.  The story of her ensemble illustrates the details of what is involved in Fashion Judging.  Points are earned in each of FIVE categories and Cookie stood before two judges for each of these categories.  The ensemble must be either completely ORIGINAL or completely REPRODUCTION.  In this case, everything that Cookie wore was original.
MAJOR GARMENT –  Cookie's cream colored beaded formal dress was thanks to the very good eye of Joy and Serena McLaughlin.  The two of them were at an estate sale and saw the dress, supposedly the grandmother's wedding dress, for sale.  They thought it might be an era dress and so they took a chance and purchased the dress.  They brought it to the next WLER club meeting for Linda Morford to take a look at the dress to verify their suspicions and Linda bought the dress, with the intention of selling to a friend whom she thought the dress would fit; however, that sale had never been completed and so when Cookie went looking for a dress to wear – this one was available.   When she tried it on it was a perfect fit and so the hunt began for all of the other items that would be needed to complete the perfect ensemble.  It should be noted that the dress had been stored for a very long time, and it was thanks to the careful "steaming process" completed by her sister, Sunny Lupton, that the dress looks as good as it did.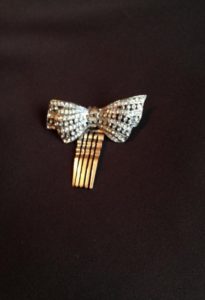 HEADGEAR – Because Cookie was wearing a formal evening gown she did not require a hat, but she was judged on her era hair style and hair ornament.  Her hair stylist did an excellent job with the waves in her hair and the original rhinestone Hair Ornament was the perfect touch.  Her make-up was era style and her fingernails were done with the "half moon" at the nail bed which was typical of the Model A Era.
COORDINATED APPAREL – This category includes all the items needed to complete the ensemble and is divided into two sections.  The outer garments include fur, gloves, and hankie.  Cookie was fortunate to purchase a pair of leather over the elbow gloves at the Fashion Swap meet (on the day before the judging) which were much better than the shorter cotton gloves she had found earlier.  Because of her size and with the use of lots of powder on her hands, she was able to get the gloves on!  The fur
is owned by Sunny and is a beautiful three pelt fox which had an era closure.  It was considered authentic because it had toenails!  The dainty hanky which she carried in her purse was French.  In addition to outer garments, the under garments are also judged.  Because the dress had a good lining, she was wearing a "teddy" which had lace edgings.  (Only one small corner of the teddy is shown to the judges!)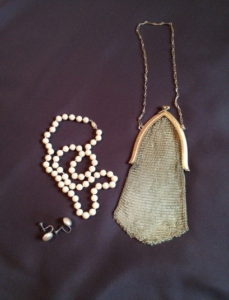 ACCESSORIES – This category includes all of the non-clothing items that are needed to complete the ensemble.  It includes all the jewelry, purse, belts and any other non-clothing item worn.   The single strand of white pearls looked best with the beaded dress and again Cookie managed to find a pair of era earrings the day of the fashion swap meet to match!  The one treasure she had was a beautiful family ring; however, she could not wear it because the gloves would not go over it.  She tucked it into her evening bag.  The judges give points for THREE specific items in this category and they liked the ring better than the bronze chain purse which was not in PERFECT condition, so they gave point for the ring!
FOOTGEAR – An email request to friends turned up a pair of ivory colored leather pumps which were a perfect match for the dress.  In fact, they are the same shoes that Jackie Pienert wore when she was the Bride for the Fashion Seminar at Niagara Falls in 2015.  The borrowed shoes were a good match for the dress.  Cookie purchased a pair of rayon stockings (silk stockings are almost impossible to find)  at the Fashion seminar and they were held in place by a pair of borrowed garters.
Congrats Cookie on such a good job!
 _______________________________________________________________